SOLUTIONS
RELATED LINKS
RESOURCES

Business Intelligence and Data Warehousing (BI / DW)
What is BI?
Business intelligence (BI) allows organizations to access, analyze, and share information across the enterprise and in extranets environments, using both tools and analytic applications. In enterprise networks, BI provides employees with information to make better business decisions, and can be used in environments ranging from workgroups of 20 users to enterprise deployments exceeding 20,000. In an extranet environment, BI is deployed in applications that allow organizations to deliver new services and build stronger relationships with customers, partners, and suppliers via the internet. In customer relationship management, the pre-requisite for acquiring, developing, and caring for customers is to understand how your existing customers behave. Providing this "customer intelligence" is one of the unique strengths of BI.
EOK Technologies believes that the primary benefits a business will experience from a BI deployment are:
An immediate impact on your bottom line, as users gain instant access to information, which in turn generates a fast payback
The leveraging of existing investments in packaged applications (i.e., ERP, CRM*, etc.) by extracting value from the data they hold within
Better visibility of the organization for both executives and business managers
A better understanding of your customers, and therefore a greater ability to retain them
How does BI help your Organization?
There are several compelling reasons why now more than ever BI should be deployed within your organization:
In a slowdown, your first priority should be on what type of IT deployment provides the greatest "bang for your buck." Business intelligence delivers the greatest immediate impact for your organization, as it gives users in your company the information they need and supplies an instant ROI.
Many companies have already begun to implement a packaged application, such as ERP or CRM, and have yet to see the benefits. Business intelligence allows you to leverage your investment in these packaged applications and extract information from the data they collect in order to use it in a effective way–now.
BI offers executives and business managers, better visibility of the organization by giving them a greater understanding of their business operations. With this knowledge comes the ability to react much more quickly to problems and issues than with conventional "views" of the organization such as balance sheets, income statements, and quarterly finance reports.
It is during a slowdown, when budgets are tightest, that you should use BI to understand your customers and hold on to them. Focusing on customer satisfaction will go a long way to improving the bottom line without forcing your business to incur large expenses to attract new customers.
At EOK, we recognize that Business Intelligence and Data Warehouse (BI/DW) initiatives are among the forefront of top priorities for organizations today. For many organizations, Business Intelligence and Data Warehousing are not new initiatives; but optimization and expansion of capabilities are the next area of focus.
As an early adopter of technologies that help organizations analyze and incorporate business intelligence with customer relationship management tools, we understand how important an investment these initiatives are to clients, and how mission-critical the success of these initiatives is to the viability of the organization as a whole.
In many instances, EOK successfully helps organizations reengineer business processes, and we aid in measuring and incorporating imperative customer data into their strategic business decision-making.
Integrating Data, Applications and Best Practices
In recent years, technological advancements have made significant improvements to better enable clients to gather and store data. IT frameworks have evolved in such a way that many organizations gather and store data in multiple sources. Many companies, however, lack the resources to convert this data into useful information that can be used for business decisions.
EOK's Business Intelligence Practice specializes in helping clients navigate through their enterprise-wide IT Infrastructure, utilizing "Best Practices" to create a roadmap to realize the full benefits of their investment.
EOK has expanded its value proposition to clients by developing a successful, dedicated Business Intelligence Practice that provides clients with unsurpassed quality of technical and functional expertise.
We provide complete, end-to-end BI/DW solutions, development and integration, and outsourcing services that will help you emerge as a leader.
Business Intelligence Strategies and Solutions include
Assessment
ETL
Enterprise Data Warehousing / Customized Data Warehousing / Data Marts
Balanced Scorecards
Data Mining
Business Process Re-engineerin
Enterprise Data Modeling
Metadata Management
Data Stewardship
"Trusted Advisory" Consulting
Our Approach:
Our approach to projects is streamlined and adaptable. In Development Process our milestones and deliverables are clearly defined. EOK's BI Solutions Practice Methodology is a fast evolving and an efficient approach to implementing, integration, upgrades, application & support and re-engineering of BI/DW applications.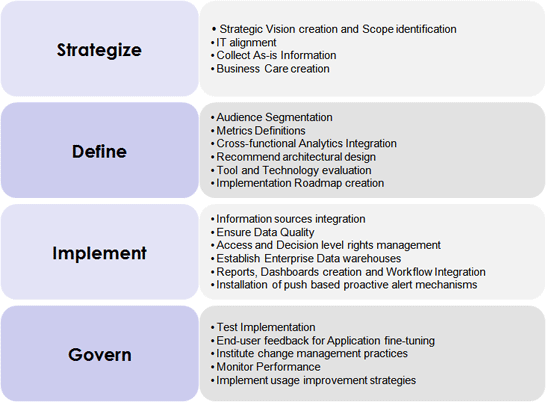 Implementation Phases:
Phase 1
Pase 2
Phase 3
Phase 4
Scope & Analysis
Design Phase
Build
Testing / Deployment

Project Kick off
Scope Definition Document
Revised Project Plan
Training deployment Plan
Scope Review and Sign-Off

Report Design Phase
ETL Design
Data Model Design
Universal Design
Test Plan
Development Environment Plan

Data Model Available
Create the Universe
Universe Tested
Reports Completed and Unit Tested
Production Environment Available

System Test Completed
End-user Training Completed

Deployment

UAT Completed
Production Rollout
Support & Maintenance
Indicators Monitored
EOK has established expertise in executing implementations using diverse BI/DW applications such as:
SAP Business Objects
OBIEE
Cognos
CONTACT US

TESTIMONIALS
MEDIA ROOM

Find out the latest happenings at EOK Media Room
Read More