EXPERTISE
RELATED LINKS
RESOURCES

webMethods

Integration is about making things simpler – for customers, for suppliers and for employees, both IT and line of business. But the actual achievement of integration is not at all simple and requires skilled, experienced professionals who can apply integration technologies
to solve and meet your organization's unique requirements. EOK' broad range of skills and implementation experiences has allowed us to become one of the leaders in the delivery of services around integration technologies such as webMethods, Oracle, IBM and SAP.
WebMethods - The Foundation for SMART Business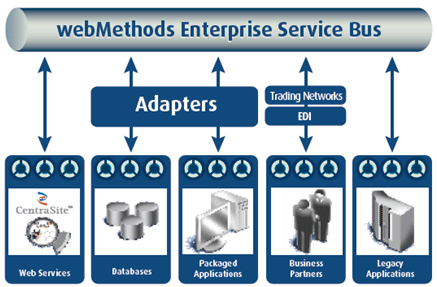 Despite investing in best-of-breed application solutions, businesses are still faced with challenges, such as:
Secure, enterprise-wide connectivity
Seamless communication across the supply chain
Reduced development times
Rapid time-to-market
The webMethods product suite is a comprehensive, mature business integration product suite, offering secure enterprise-class solutions to help you handle ever-changing standards and interoperability requirements, efficiently manage business processes across the extended enterprise, and keep up with growing demands.
At the core of the suite is the webMethods Enterprise Service Bus (ESB) Platform, the foundation for your Service-Oriented Architecture (SOA). The webMethods ESB Platform provides the foundation for rapid integration and collaboration within and beyond your organization. The Enterprise Service Bus Platform allows users to build, execute, and manage business processes across the extended enterprise.
EOK Offerings
Whether you need to integrate internal applications, trading partners, mainframes, messaging or are developing your SOA, EOK using webMethods offers you the most mature, comprehensive and easy-to-use integration platform available to harness the value of current IT systems.
Enterprise Application Integration
Integration Server/Broker/Adapters expertise for versions 4.x thru 7.x
Consulting: Customized EAI solutions, EAI Product evaluation, Design, Implementation, Migration, upgrade and Maintenance.
Competitive migrations for ISVs - from other databases / development platforms to .Net, Windows & SQL Server.
Product Evaluations: With Superior capabilities in technologies like J2EE, .NET, AS400, Mainframe, help make the right decisions with EAI tools.
Adapter Development: Significant Adapter development work in integrating ERP and mainframe applications.
Legacy Application and data Integration.
Legacy Application and data Integration.
Open Source and Standards based Integration –Jboss.
ESB/Messaging, JMS and standards based technologies like XML/XSLT.
E-Standards
Technical Expertise in EDI (x12, EDIFACT), xml (RosettaNet, BizTalk), HIPAA (Healthcare), SWIFT (Financial Services)
EDI implementation, Migration, Upgrade, Support and Maintenance services.
Design and Architect webMethods EDI implementation
Integrate customized partners EDI standards.
Architecture Overview
Detailed analysis of current as well as future processes, applications and infrastructures.
Optimization of business process and performance management.
Review webMethods configuration, Hardware configuration and the supporting systems.
Databases and network connectivity to provide tangible recommendations.
Evaluate existing architecture to identify performance limits your hardware and architecture.
Provide/Ensure best practices implemented.
CONTACT US

TESTIMONIALS
MEDIA ROOM

Find out the latest happenings at EOK Media Room
Read More